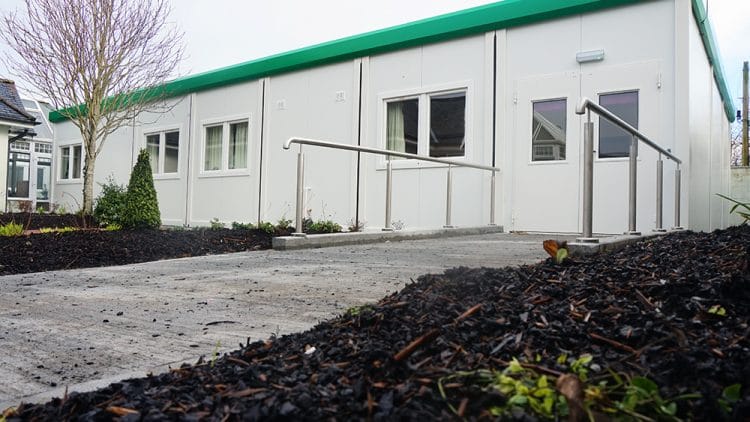 Hygienic Modular Solutions
Client – Galway Hospice Foundation – Requirement: A Hygienic Modular Solution to facilitate their ever increasing demand for high quality space for patient care. A pre-engineered solution with infection control measures provided by Advanced Space Providers was put in place.
Client Design Team – Healy Partners Architects
Main Contractor – Advanced Space Providers
Structural Engineers – Trimo MMS
Service Engineers – Trimo MMS
Project Size – 340m2
Project Duration – 6 week
Location – Renmore, Co. Galway
As Featured in Architecture Ireland Magazine: http://architectureireland.ie/
With an increased demand for specialist inpatient services, the Galway Hospice has seen there occupancy rate average in excess of 90% during 2015; to cope with demand the Galway Hospice decided to install a high quality pre-engineered solution that offered a competitive price and VFM
Working closely with the client and there design team; Advanced Space Providers aim was to provide a physical environment that created a warm and welcoming feel whilst meeting the highest design specification and surpassing regulations.
An innovative approach by our designers allowed us to maximise the floor area (340sq/m.) within a restricted site, furthermore this bespoke building utilised different length, width and height modules allowing us to link the new building to the existing hospice giving us a continuous space for both patients and staff.
Within the building, great care and attention was given to the selection of lighting, floor coverings, colour schemes and joinery to promote a warm environment and the addition of 3000mm internal floor-to-ceiling height promoted a spacious environment. Hygiene and infection control is key to client requirements, and we have ensured compliance by using a smooth non-porous flat, galvanised (145 g/m2, DIN 55928) and painted (29 µm, DIN 55928/8) steel sheet in a thickness of 0.5 mm, in FE P02 quality (DIN 10142).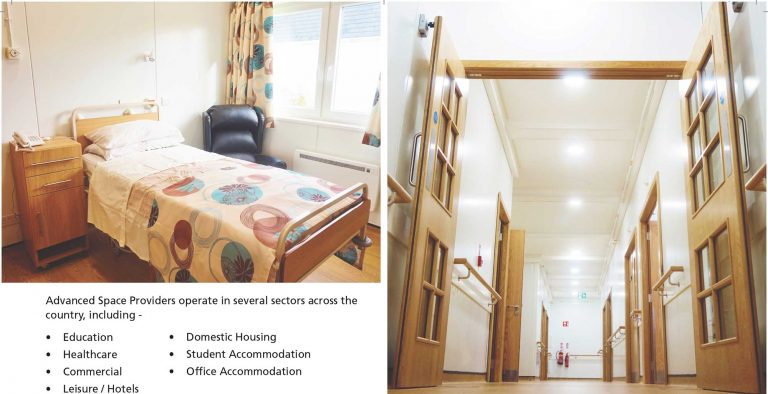 Externally, the design value is that based on that of modest form; simple geometry and clean lines offers a contrasting feel to the ever present "traditional form" of the existing hospice. A simplistic green facia ties both buildings together highlighting the transition from traditional to modern building practices.
The use of high-density mineral wool, as standard, throughout ensured a high thermal efficiency and acoustic quality was achieved whilst offering a complete fireproof solution. The wall, roof and floor were constructed to achieve U-Values of .19W/m²K, .20W/m²K, & .20W/m²K respectively surpassing the current Building Regulations, Part L – conservation of fuel and energy, with our innovative wall panels achieving an EL240 fire resistance.
Advanced Space Providers products stand apart from pre-engineered solutions currently in the industry, and proudly offer VFM solutions which ensure –
Ø DURABILITY and an AVERAGE LIFESPAN OF 30 YEARS
Ø FLEXIBILITY FOR FUTURE RECONFIGURATION
Ø PORTABILITY and DEMOUNTABILITY
Ø COMPLIANCE with CURRENT BUILDING REGULATIONS
Ø EXEMPLAR ACOUSTIC QUALITIES
Ø HYGIENIC SOLUTIONS FOR HEALTHCARE
Ø DESIGN/BUILD and FULL TURN-KEY SERVICE AVAILABILITY
Ø PROVISION OF FULL SITE WORKS AND EXTERNAL SERVICES
Ø INCLUSION OF FULLY CERTIFIED MEP RETICULATION
Ø PROVISION OF A RANGE OF QUALITY INTERNAL FIT-OUT OPTIONS
Ø CAREFUL CONSIDERATION OF AESTHETICS – PROVISION OF EXTENSIVE PALETTE OF ELEVATIONAL OPTIONS.
Advanced Space Providers operate in several sectors across the country, including –
Ø EDUCATION
Ø HEALTHCARE
Ø COMMERCIAL
Ø LEISURE/HOTELS
Ø DOMESTIC HOUSING
Ø STUDENT ACCOMMODATION
Ø OFFICE ACCOMMODATION
Contact Us:
Advanced Space Providers
www.advancedspaceproviders.com
Eastway Business Park, Ballysimon Road, Limerick
Tel: (061) 312520, (01) 8312520
E-mail: info@advancedspaceproviders.com